June 15th, 2017
WE WON!
There will be...
NO Mega CVS!
More to come...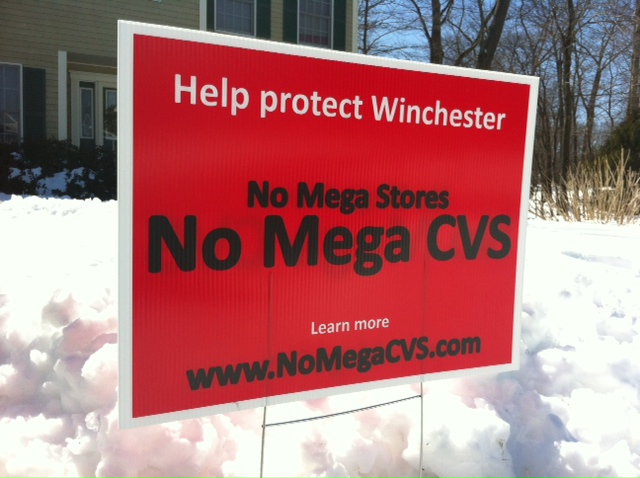 May 7th, 2015
Today, we completed the examination of witnesses and submission of evidence at trial. The next step is for a transcript to be prepared. We will have thirty days after the transcript to prepare written post-trial briefs. After those are completed, the Court will schedule a final closing argument, and then take the case under advisement. A written decision from the Court is not expected until sometime after the final argument.
Several abutters appealed the ZBA decision due to the fact that the ZBA did not enforce the towns zoning bylaws thus allowing the CVS to be significantly bigger than allowed on that site. This is in addition to the lack of regard for Traffic, Stormwater and Contamination issues repeatedly raised by the abutters and other town residents. Please contact us if you can help in our attempt to protect our town from this MEGA CVS. Further, we must send a message to our town leadership that we expect them to defend our town to the full extent allowable by our zoning bylaws. That rolling over to a big corporation, for a small tax income gain, at the expense of the thousands of us who own homes here and enjoy the now rare small town feel, is not acceptable. That the significant efforts to keep a vibrant and inviting downtown are significantly threatened by the construction of a 14,000 square foot mall style store with more than 60 parking spaces.
Please note that this is NOT a "Done Deal." Despite the Site Plan Approval, eviction, boarding up and fencing of the properties, they do not have all of the titles and we have appealed the ZBA decision.
Please keep your signs on display. If you no longer want to display your sign or if someone has stolen your sign (including the wind) please contact us and we will get you a new sign or remove your sign as you wish.
THE "FREQUENTLY ASKED QUESTIONS" SECTION
WAS UPDATED ON FEBRUARY 23rd...Check it out!
We are here to fight a development of several parcels of land in Winchester, MA into a MEGA CVS Pharmacy. This site is here to inform those who are curious about this development and why it is not welcome. Please support our efforts by volunteering your time, talking to your neighbors or contributing to our expenses directly. You can contribute here.
The Winchester Zoning Board of Appeals released its decision to approve the current site plan on September 12, 2013. Several abutting neighbors sued the ZBA and the developers to reject this approval by filing a complaint in Land Court on September 30, 2013. Currently there is a tentative trial date of May 4-5, 2015.
There are several reasons why this development should be stopped, among them and listed briefly are the following.
1. There is a title dispute over one of the parcels and thus the developer does not own or have clear title to the property being developed.
2. The ZBA did not enforce several of the towns zoning bylaws. Thus the proposed store is approximately 50% bigger than it would be "as of right". To ignore these bylaws the ZBA should have required variances.
3. Its size and scale harms our town. Both the immediate neighborhood and the formerly increasingly vibrant downtown are directly and negatively impacted. The subsequent blight to our downtown will negatively impact everyone who appreciates its current vibrancy.
4. By not enforcing the zoning bylaws, the ZBA opens the door to other developers to not obey the zoning bylaws. This threatens all of the properties in Winchester (unless you are a developer maybe). Why should the rest of us be forced to comply with parking requirements and setbacks? Why did this developer and owner get special treatment?
We need your help. Please contribute here.
Your help is needed NOW more than EVER!
Please make a contribution TODAY!
Get talking Winchester! This is our town.
By the way...has your NO MEGA CVS sign "gone missing"?! You're not alone! Request a replacement on the "Volunteer" Form...
and we will replace the sign that "disappeared"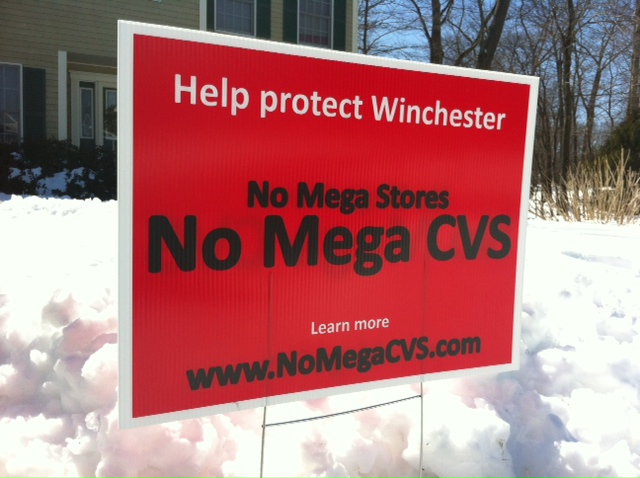 News
Thursday, March 21, 2013 12:28 PM
On Thursday, March 21st, Brenda Buote and the Boston Globe published a story about the proposed CVS.
It pictures our signs and links to our website.
---
Tuesday, January 29, 2013 11:00 PM
Winchester Pharmacy, an independently-owned and operated pharmacy, has opened their doors at the site of the former Winchester Drug.